¡TENEMOS NOTICIAS!  WE'VE GOT NEWS!
Continuamos creciendo, tanto en capacidad como ambición, y deseamos incluirlos en nuestro desarrollo para crecer todos juntos. Este foro es tanto suyo como nuestro.  Estamos atentos a compartir información que impulse el crecimiento de el arte cinematográfico a nivel internacional.
We want to know what you're up to. Send us news of your latest adventures topifflosangeles@gmail.com.
NALIP SCORES BIG WIN AT IFF PANAMA
NALIP DICTA EXITOSO TALLER EN IFF PANAMA
This past April,
Ben Lopez
,
NALIP
's Executive Director and
Sandra Avila
, President of production company Avila Entertainment, were guests of the
Panama Film Commission
(
DICINE
) at
Panama's International Film Festival
where they conducted a two-day workshop on the finer points of preparing and presenting successful film pitches to studios and potential investors. The encounter was facilitated by
PIFF/LA
's Artistic Director,
Carlos Carrasco
, after introducing representatives of NALIP and DICINE at last year's edition of the
Panama International Film Festival in Los Angeles
(PIFF/LA).
Over the course of two sessions on consecutive days, Mr. Lopez and Ms. Avila guided workshop attendees through a series of interactive presentations and exercises designed to focus the filmmakers on the specificity of their proposals, their marketing targets and even their presentation skills.  The group, made up of directors, screenwriters and producers, engaged in role-playing exercises, pitching to each other in breakout sessions and then providing group feedback in lively and entertaining encounters skillfully moderated by the moderators.
Ms. Avila and Mr. Lopez also reviewed specific case studies of successful Latino artists now working in Hollywood; and provided a window into the inner workings of the entertainment industry in the U.S.  In the end, the overriding message was an encouraging one underscoring the fact that Latino creators are currently living in a time of high demand for their content over multiple global platforms.
At PIFF/LA we are very proud of having brought such a valuable resource to the filmmakers of Panama, and also to have established this link to one of the most vibrant and important organizations working for all Latinos in the entertainment industry.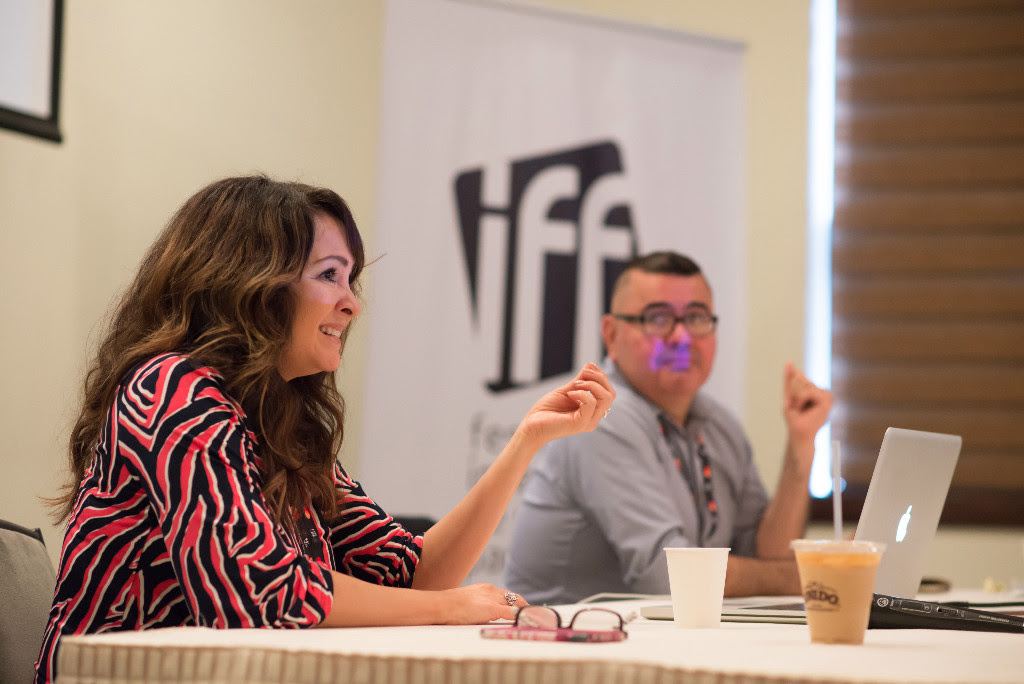 Sandra Avila, founder of Avila Entertainment and Ben Lopez, Executive Director of NALIP.
Todavía queda tiempo para ingresarse al
Latino Media Summit de NALIP
, patrocinado por HBO, desenvolviéndose del
22 al 25 de junio 2017
en el centro de Hollywood. Talleres, paneles, proyecciones e innumerables oportunidades para codearse con lo máximo de los emprendedores y ejecutivos de la industria de entretenimiento en un ambiente expresamente enfocado en avanzar al artista latino en el medioambiente norteamericano.
OUR MAN IN PANAMA – Creciendo los enlaces
PIFF/LA is thrilled to announce a new strategic alliance with Panamanian writer and filmmaker
Luis André Lorenzo Trujillo
.  A seasoned member of the press and well-respected entertainment and cultural event reporter, Luis publishes the blog
www.materialextra.com
and has curated his own night of
The Best of Panamanian Shorts
.  Luis has happily joined forces with PIFF/LA to help us in our ongoing mission of bringing the best of Panama film to Los Angeles and create exchanges between the two countries.
Muy emocionados en anunciar nuestra nueva alianza  con el talentoso escritor y guionista Luis André Lorenzo Trujillo quien se apuntado como colaborador nuestro desde Panamá.  Luis tiene larga trayectoria como periodista y publica un blog sobre el cine, www.materialextra.com. Lo consideramos un excelente recurso y nos sentimos honrados por su colaboración.
Congratulations to NFMLA Best Short Winner!
Enhorabuena to Alejandro Patino and the entire cast and crew for winning The NewFilmmakers award forBest Comedy Short of 2016 for The Best and Worst Days of George Morales' Unnaturally Long Life. This tremendously entertaining short originally screened as part of NFMLA's Latino NIght at the Academy of Motion Pictures' Mary Pickford Theatre as part of a spectacular evening supported by the Oscar Academy, WGA, SAG other media partners.
¡CONVOCATORIA ABIERTA PARA PIFF/LA 3!
Submissions are Open for 2017 edition of PIFF/LA
Estamos aceptando proyectos para nuestra próxima edición del festival de cine en Los Angeles. Nos interesan particularmente cortos y largos de
Centro América y el Caribe
. Visite nuestra página en FilmFreeway para subir sus proyectos.
Submissions are now being accepted for our 2017 edition of our film festival. We are particularly interested in projects from Central America and the Caribbean. Visit us at FilmFreeway to upload your submissions.
SPONSORSHIP OPPORTUNITIES AVAILABLE.
Contact us for more information.
Latest posts by Walter Nicoletti
(see all)