We are excited to announce that the 4th annual Sydney Indie Film Festival will take place from 22nd October – 1st November 2018 at Event Cinemas George Street Festival Space.
Write down all dates in your diary so you can join us at the biggest Indie Films Show in Australia!
We will also have an exclusive Pre-Festival Event on 15th of October!
Thank you Event Cinemas for supporting Independent Films!
The Sydney Indie has been consistenbly voted Top 100 Film Festival worldwide at FilmFreeway since its first year. Thank you everybody for being part of this beautiful journey and supporting our passion for supporting Indie Films!
We are so excited and grateful to be turning 4!
2015: 1st year of the Sydney Indie Film Festival's events: 8 days, 62 films from 20 countries!
2016: 90 films! 13 days of events, including our very first "Outdoor Cinema Day" as part of the Gladesville Eats & Flicks massive open air Family Event by the Hunters Hill Council!
2017: The Biggest Indie Films Show in Australia! 137 Films, 11 days, 2 locations including Event Cinemas George Street inaugural Festival Space & the newly renovated gorgeous ubber modern Woollahra Library at Double Bay!
Next: 2018!
Do you have a new film? Wanna be the Official Selections Stars of the Sydney Indie 2018?
Submissions now open exclusive via FilmFreeway!
https://filmfreeway.com/SydneyIndieFilmFestival
Get in early before the "Rise & Shine – Super Early-bird Deadline"!
Yes, now with the silly season approaching, we know that most Filmmakers are usually very excited about the extra time for more film's productions & promotions while everybody out there are busy with all the Christmas Buzz!
Are you following our Facebook Page?
If not yet, make sure you check our page and Click "Like/Follow" so you're the first ones to know about some pretty cool Giveaways Passes & Promos that usually happen exclusive on our Facebook!
https://www.facebook.com/sydneyindiefilmfestival
Did you attend our events? More 2017 event's photos by Fawaz Hamawy Photography getting uploaded at our page regularly! Check it out!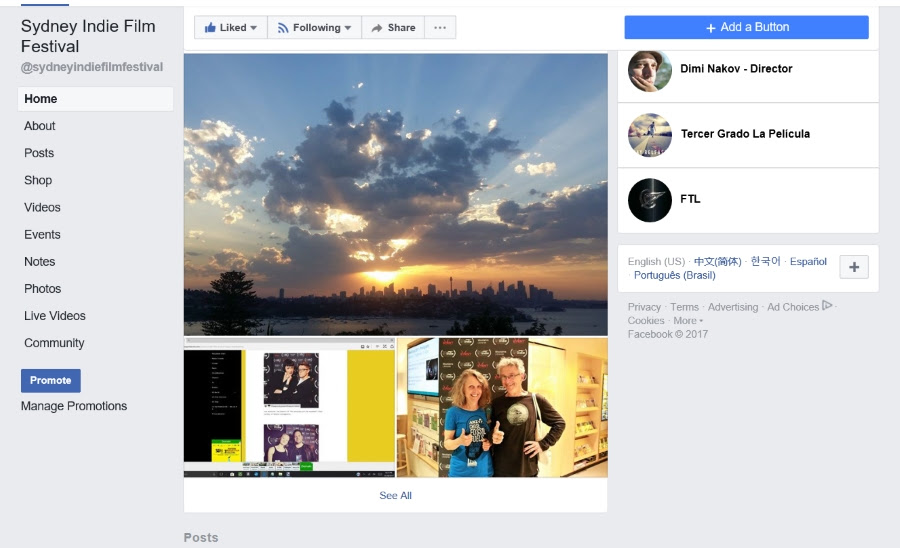 Lots of fun events, photos & news! Check it out @sydneyindiefilmfestival
#TB
Here at the Sydney Indie we always remember all the films and filmmakers and we're so happy and honored to be able to share some of the very best Indie Films from Australia & World with the Audience since our first year!
To make it easier to recap, we made a list of all official selections trailers at our Vimeo & YouTube!
Check out 2015 lists, also check out the filmmakers channels, some of the films are now available online!