The Corrs
Thursday 19 October
The Irish hitmakers are back for a one-off show promoting their ambitious and soulful new album Jupiter Calling.
Buy tickets using pre-sale code 29950 until 8am on Friday 15 September.
THE THE – Comeback Special
Tuesday 5 June 2018
Matt Johnson's band perform in the UK for the first time in 16 years. Tickets on sale at 10am on Friday 15 September.
Classic FM Live
Tuesday 19 September
This autumn's unmissable Classic FM Live is a film music spectacular, celebrating the legendary John Williams.
Celebrating film composers
Michael Giacchino at 50
Friday 20 October
A host of very special guests join the Oscar-winning film composer for this unmissable birthday gala concert.
James Horner: A Life in Music
Tuesday 24 October
A celebration of the late composer's greatest work, including the epic scores to Titanic, Aliens and Braveheart.
Late Night Jazz
Elgar Room: On selected Thursdays
Featuring some of the freshest acts on the London jazz scene – Ollie Howell,Kokoroko, Yazz Ahmed and more.
Tcha Limberger
Elgar Room: Sunday 15 October
Enchanting Transylvanian folk music from renowned singer and violinist Tcha Limberger and his band.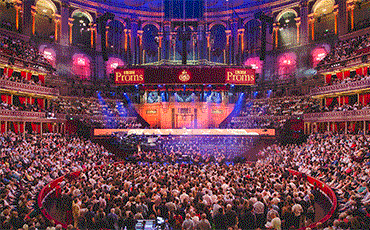 This week in 1901: the Hall hosts the world's first bodybuilding contest
On 14 September 1901, the Royal Albert Hall played host to the world's first ever bodybuilding contest, judged by none other than Sherlock Holmes author Arthur Conan Doyle! Orchestrated by Prussian strong man Eugene Sandow, 12 finalists competed for a prize of 1,000 guineas, and a gold statuette.
Find out more about this event and other interesting chapters in the Hall's history on one of our Secret History Tours, currently running until the end of September.
---
We would love to understand more about you, and what you like (and don't like) hearing about by email. You can help us to get this right by completing a short survey about culture and the arts, as well as about the Royal Albert Hall.


Registered Charity
Number 254543
Latest posts by Walter Nicoletti
(see all)