Where I am: Southfield, MI
What I'm Listening to: The Fugees – Killing Me Softly 


Two years ago, I was driving around the mountains in Utah when John Mayer's album, Paradise Valley, came on my iPhone 5 (which I had plugged into the car's stereo). I had listened to this album once before in LA, but while driving in Utah's post-card worthy topography, the album sounded different. It seemed to underscore the scenery in a very natural way. Paradise Valley's dry drum kits, intimate vocal takes, and overall shunning of reverb seemed to just make more sense in Utah. It felt like it was made to be listened to here, not in a bustling city like LA.

I actually liked the album more in Utah than I did in LA. This got me thinking…

When/Where/and How someone listens to an album is generally considered the decision of the listener. But why?

Typically, a listener chooses to listen to a given song for one of two reasons:

They believe the given song matches their mood at the time.
They believe the given song will help them improve their mood.

In other words, we pick the songs we listen to because we think they will make us feel better. Have you ever skipped around your iPod or iPhone, waiting for a song to give you that feeling? Do you listen to different music when you work out than you do when you wake up?

I do too. (Heres my Good Morning Playlist 
️. Here's my Good Night Playlist
.)

The problem is, picking the right music for the right time is easier said than done. When we purchase or stream an album we've never heard before, we have no idea if it's going to match whatever mood we happen to be in at that moment. It's a crap shoot at best. If it's an artist we've heard before, we assume their new album will give us the same feeling their prior albums have. Often we are let down because true artists are uninterested in repeating themselves.

To sort through the tidal wave of new music that is made each year and to save ourselves time, we rely on critics, radio programmers, bloggers, and services like Spotify. These services do the work for us, curating playlists for our moods: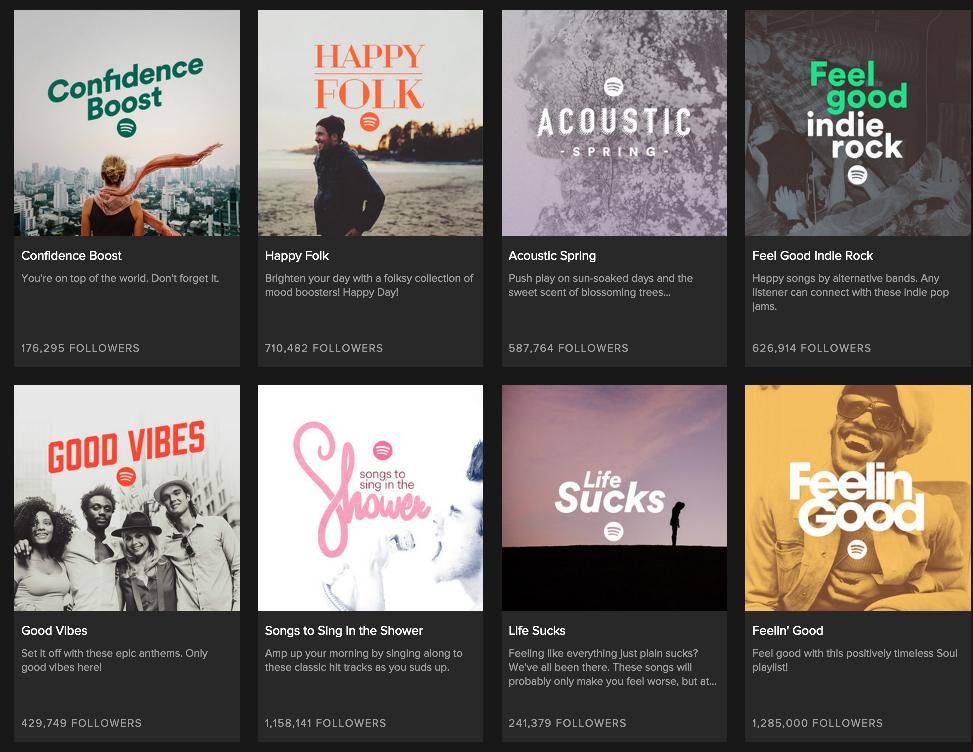 This can be a great solution but I have just one grievance: these (often snobby) gatekeepers fall victim to the same daily emotional roller coaster ride the rest of us do.

What if an artist made an album that is best listened to while relaxing, and one of these busy gatekeepers listens to it at the gym? Is the chance that they will dislike the album higher? Let's use a concrete example, if one of these critics, radio programmers, bloggers or Spotify playlist-makers listened to the new Bon Iver album at a spin class, wouldn't they be more apt to call it sleepy and flat?

You're probably thinking, "Oh Mike Posner, this is an extreme example. True music experts would know not to listen to Bon Iver at the the gym." 

In reality, it's not always so clear, especially when these gatekeepers are listening to new artists who have no established sound, or if an existing artist has created music different from what they are known for (which I would argue all real artists constantly are).

I DO HAVE A PROPOSED SOLUTION:

Because of this potential for confusion, I believe it is the artist's responsibility to provide a prescription on how an album is best experienced. Why leave it up to chance? If an artist knows that their album is full of party anthems, why wouldn't they tell their listeners before they hear it for the first time? Why make your fans waste their first listen trying to figure out how to use your music when you could just tell them, "Dude, this album sounds better in Utah. Listen to it while you're driving there, not LA."

Hence, in 2011 I started playing around with providing directions on how to use my music on my free album, The Layover (2011). The track listing was as follows (notice the prescriptions that went along with each song):

The Layover ft. Don Cannon
Wonder wall ft. Big K.R.I.T. (Drive to This)
Shut Up ft. Rusko (Drive to This)
Henny & Purple (Drive to This)
Looks Like Sex [Snippet] (Pull a Bad Bitch to This)
Rocket Man ft. Bun B (Fly to This)
Blackout Remix (Pre-Game to This)
Hey Lady ft. Twista (Fuck to This)
Marauder Music ft. Blackbear (Drive in the Dark to This)
Long Time (Vibe to This)
They Call Me ft. Bei Maejor (Ride to This)
21 Days (Chill to This)
Attitudes ft. Casey Veggies (Blaze to This)
Traveling Man (Reminisce to This)
On Fire (Drug Dealer Girl Part II) Ft. Machine Gun Kelly (Rage to This)
Room 925 ft Cyhi Da Prynce (Fuck to This)
Mittens Up ft. Elzhi & Dusty McFly (Represent Your Shit to This)
A Perfect Mess (Think to This)
Rolling in the Deep (Fall Asleep to This)
The Scientist (Fall Asleep to This)
Echo ft. Michael Franti and rjd2 (Fall Asleep to This)

I wondered if people would think the directions were presumptuous. I thought they might be upset that I was blurring the boundary between artist and listener.

However, the feedback I got was overwhelmingly positive. Listeners told me they LOVED the directions.

Hence the title of my new album: "At Night, Alone."



I wrote it At Night, Alone, and that's exactly how you should listen to it:

At Night, Alone.

…and in it's entirety (at least for the first listen 
). You can get it on iTunes here, or stream it on Spotify here. Let me know what you think. In case you're still on the fence about checking it out, here's what some "gatekeepers" are saying 
:

"The last artist I listened to was Mike Posner because I'm obsessed with that song "I Took a Pill in Ibiza." That's my favorite song right now."
~Chris Martin of Coldplay

"Mike Posner is one of the most clever, talented writers I know and this is his best work yet. This is a very important album. It should be listened to start to finish." 
~Big Sean

"These are the best songs he's ever written."
~Avicii

"Mike can write one hell of a song. I thank him for sharing his truths with us."
~Labrinth

"Mike Posner has reinvented himself as an introspective pop artist – which sounds like it could be insufferable but for the fact that these songs are deeply authentic and astonishingly personal while being relentlessly catchy at the same time. This is one of the first times I've listened to an album before it's released knowing it's going to be a worldwide hit because it strikes two simultaneous bulls-eyes: unforgettable hooks and unforgettable lyrics. It's a confessional pop masterpiece."
~Amanda Palmer

I hope you enjoy. With love,


-mp
u can call/text me at +1 313-307-4075
or email me at mike@mikeposner.com